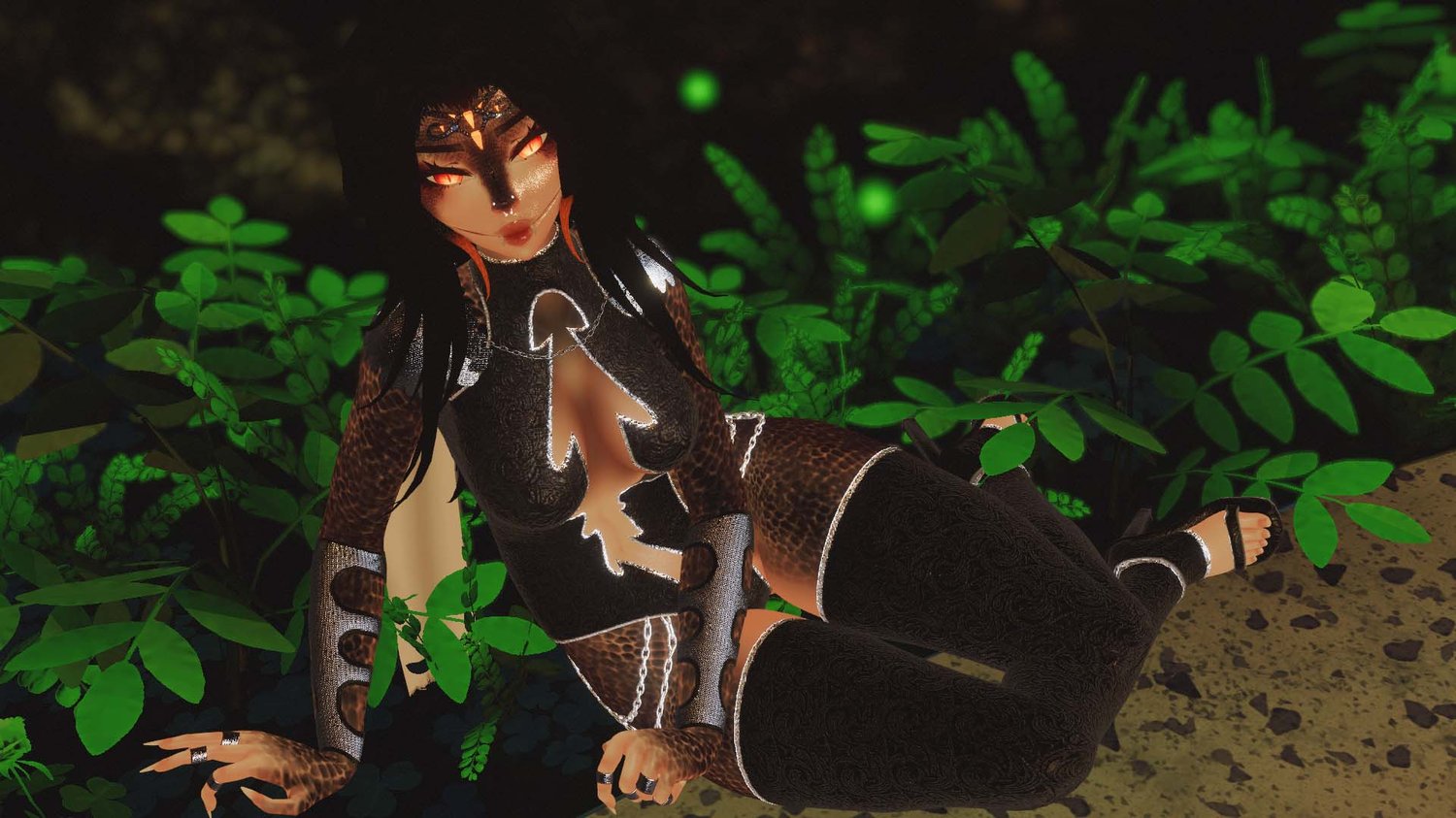 REVAMP NOX (3D MODEL)
This is in collabration with Illume#2788, we decided to revamp our old snake girls to make them hotter and better than before; find Lumos here https://illumes.store Bundle prices are available, please make a ticket to get them.


• Full Body ready avatar. Reproportioned to fit better. (Has been tested by multiple dancers)
• Clean and organized package.
• Bounding boxes has been edited to be bigger so meshes don't disappear when close.
• 6 Face gestures.
• Comes with a version with TPS with 6 places(Private areas, hands, mouth, chest).
• This uses poi_pro_7.3.50_and_8.1.155
---


• All Toggles are Dissolve.
• Preset: Bodysuit Outfit, Underwear Outfit, All Off "Outfit".
• Clothes: Bra, Cape, Skirt, Thigh Highs
• Extra: Tail, Tongue, Circlet, Gauntlets, Horns, Rings, Veil, Heels, Tail Curl (Slow)
• Customization: Human Skin Radial, Human Skin with Scales, Snake Skin, Butt Grow, Chest Grow.
• Interative (Pulling/Grabbing and Contacts): Headpat, Nose Boop, Eye Pokes, Shy Fingers, Cheek Kiss, Slap Butt Cheeks, Choking, Tail Pull.
---

• Performance: Very Poor
• Polygons: 307k
• Meshes: 15
• Material Slots: 21
• Collission Check: 219
• Avatar In Game Size: 35
• Texture Memory: 111
• VRAM All: 204MiB
---

Model: Base Sugs#9795 || Base Skin Texture Ying#666 || Head //Tongue//Tail//Menu Icons//Scale alphas Illume#2788 || Piercings//Head Scale Textures//Body Scale Texture//Bodysuit//Bra//Cape//Circlet//Gauntlets//Horns//Panties//Rings//Shoes//Skirt//Thigh Highs//Veil by me, Krisandra#0777
Showcase: Video clikk#6571 || Dancers SkellyQueen#2244 and Foxautumn#8030|| Bayblade Spinner Illume#2788 || Lighting brought to you by Minecraft Torch Man (Naudine#1213)
---
Requirements
Unity 2019.4.3f
VRChat SDK
poi_pro_7.3.50_and_8.1.155
DPS v1.31