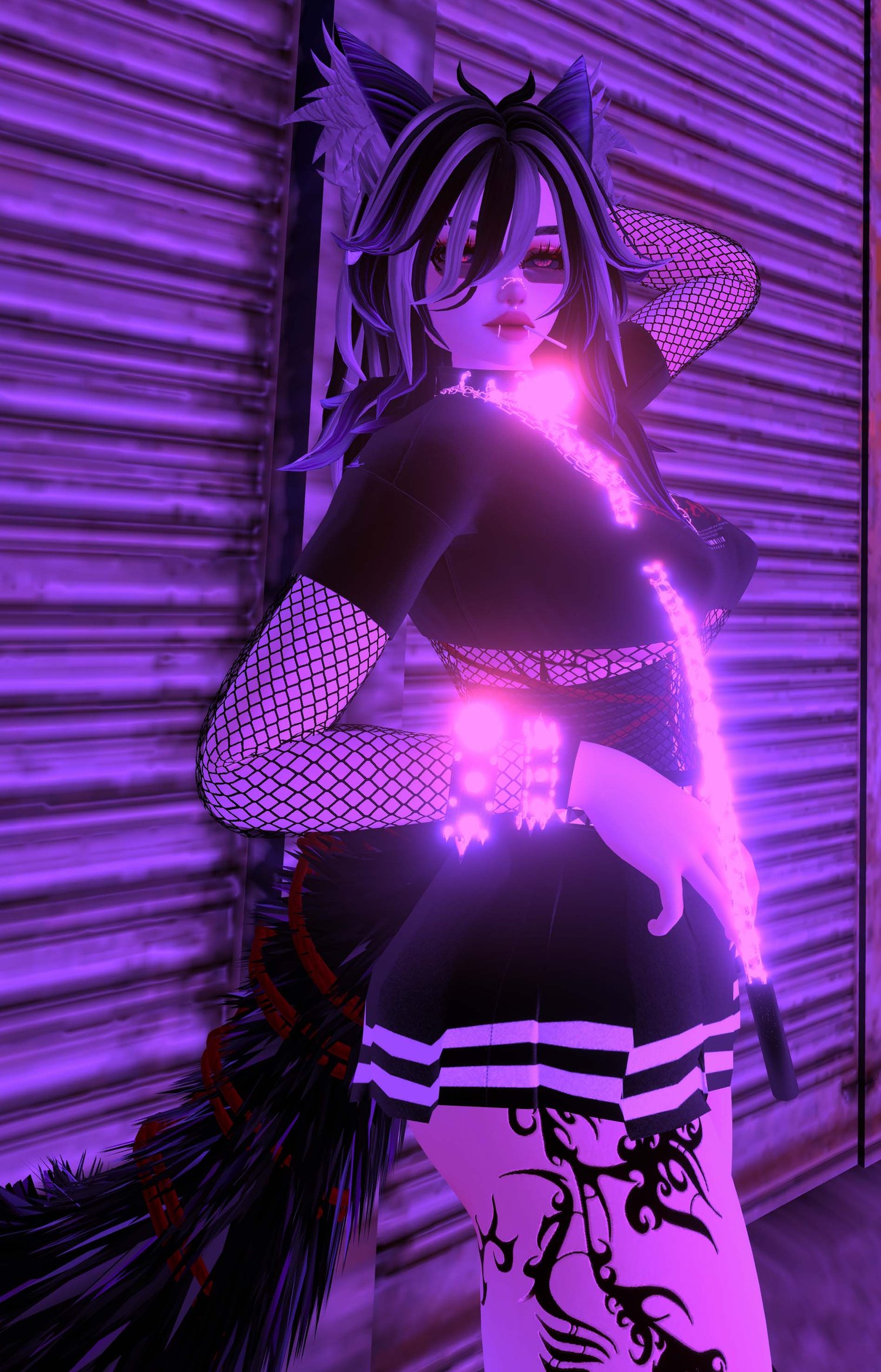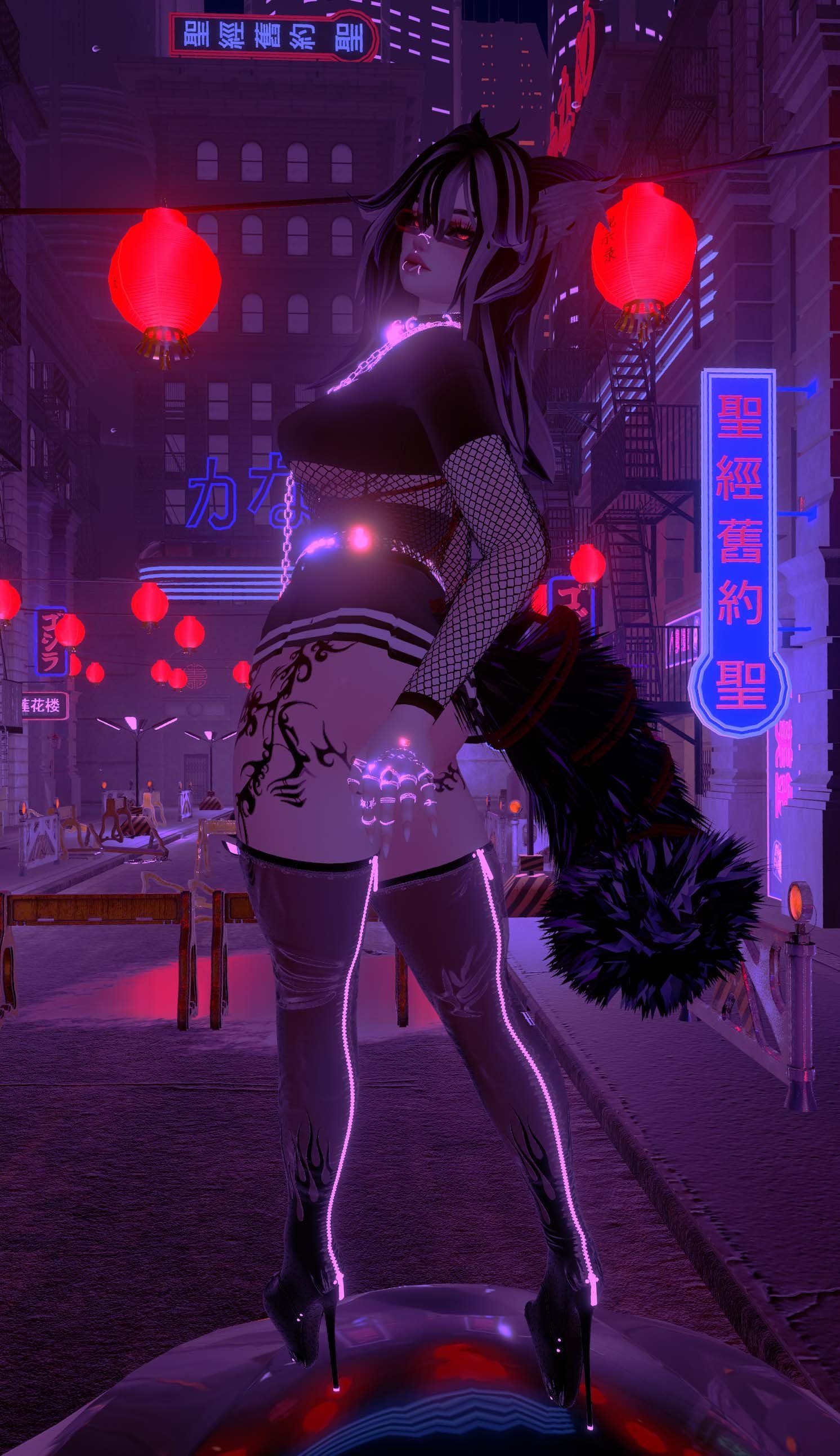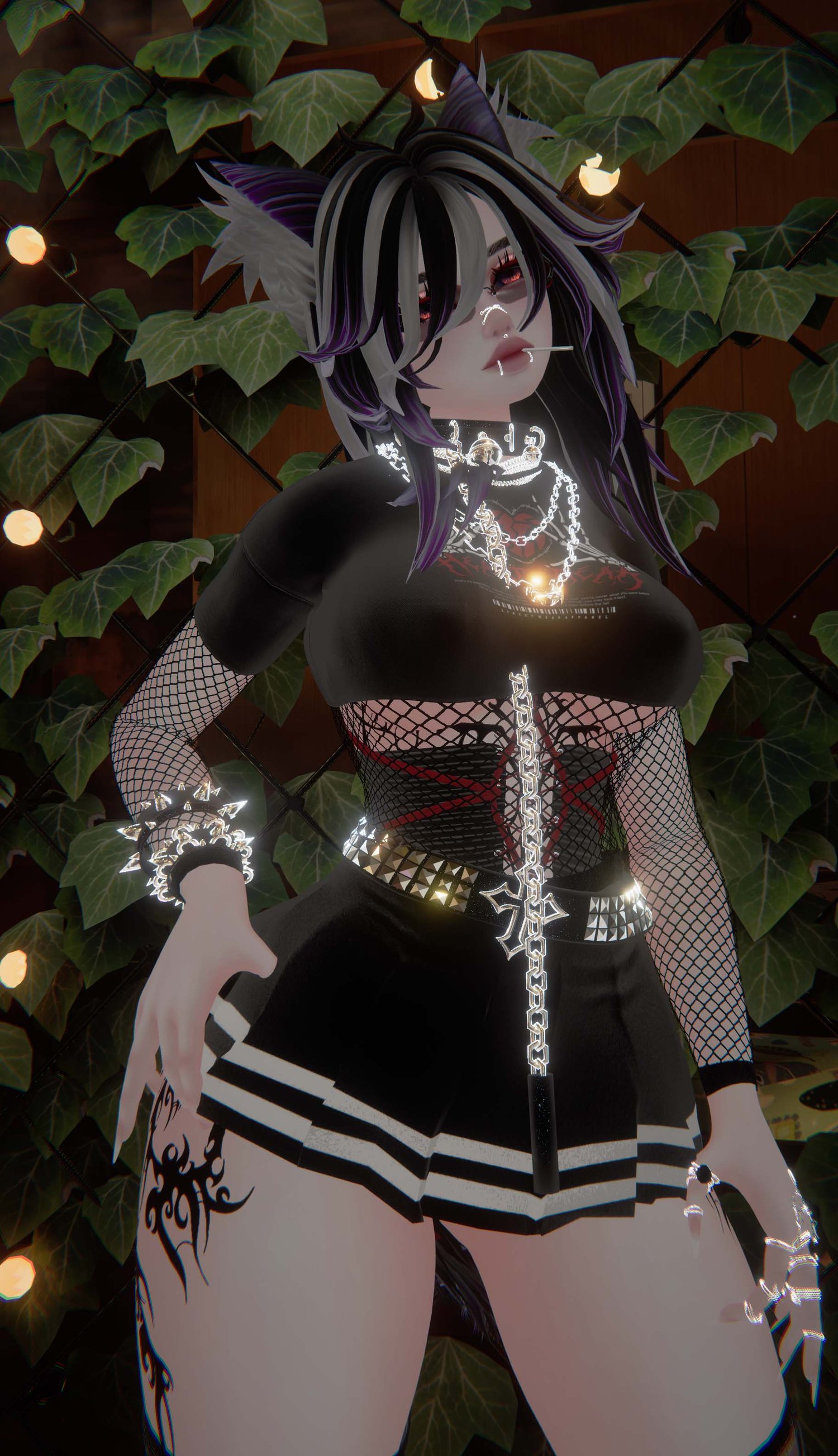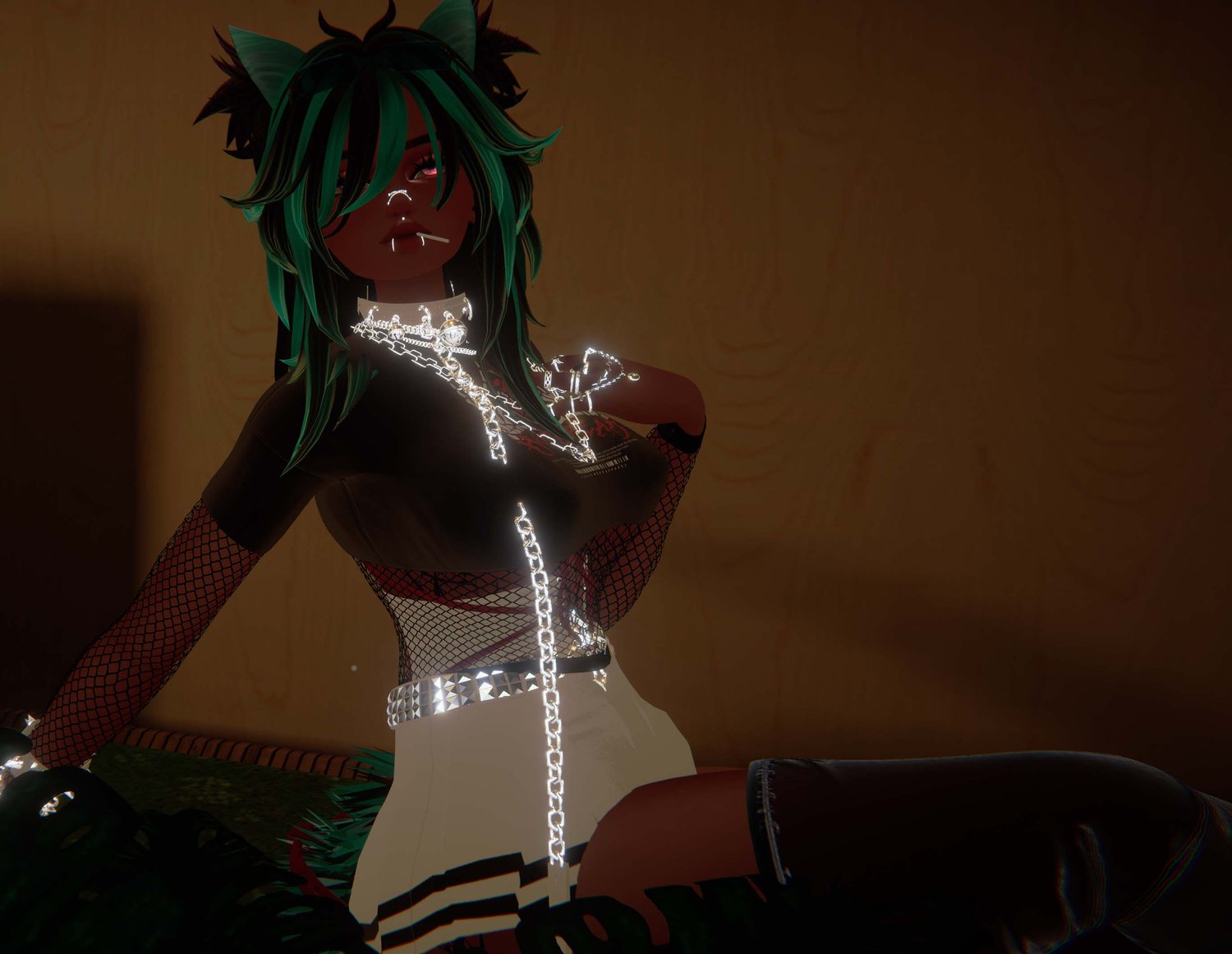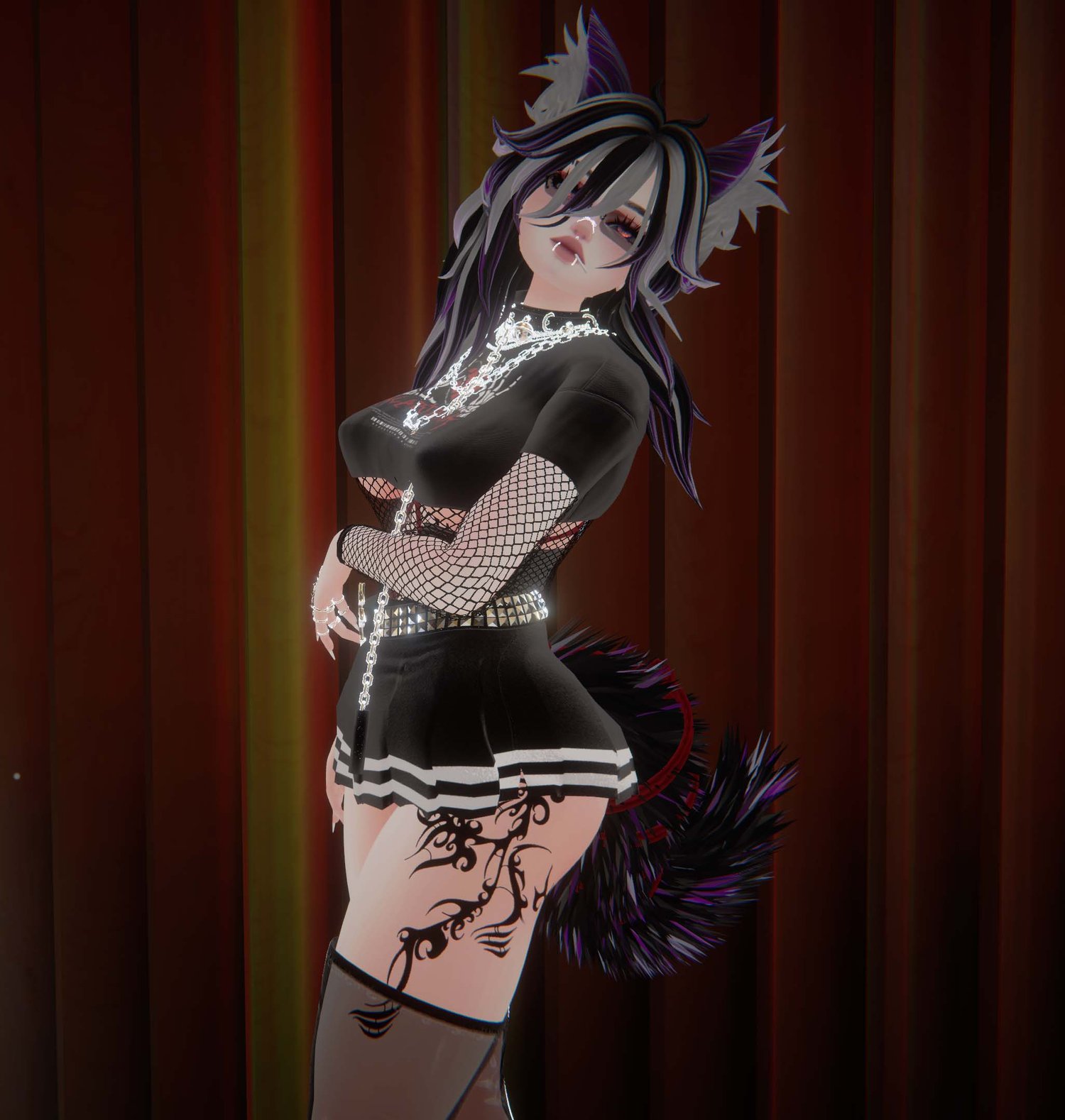 MOXY (3D MODEL)
• Full Body ready avatar. Reproportioned to fit better. (Has been tested by multiple dancers)
• Clean and organized package.
• Bounding boxes has been edited to be bigger so meshes don't disappear when close.
• 6 Face gestures.
• Comes with a version with TPS with 6 places(Private areas, hands, mouth, chest) WITH shapekey movements.
• Face Cheek and Nose Jiggle.
• Avatar Scaling.
• Cloth Physic Skirt so its nice and flowy.
---

• All Toggles are Dissolve.
• Clothes: Bra, Corset, Crop Top, Fishnet Top, Panties, Rope Harness, Skirt, Heels.
• Extra: Mask, Lolipop, Belt, Ears, Tail, Glasses, Bracelet, Long Necklace, Short Necklace, Rings, Leash, Glasses Potion Up, Down, Normal.
• Customization:  Material Swaps to white: Belt, Bra, Corset, Bracelet, Leash, Panties, Skirt. Radial Shifts: Ears and Tail, Eye Hue, Glasses Hue, Hair Hue, Hair Swaps, Hair Highlights, Skin Radial. Tail Wag
• Interactive (Pulling/Grabbing and Contacts): Headpat, Noseboop, Eyes Pokes, Shy Fingers, Kiss Lips, Bottom Cheeks Slap, Choke.
---

• Performance: Very Poor
• Polygons: 301k
• Meshes: 18
• Material Slots: 34
• Collision Check: 245
• Avatar In Game Size: 32.63 MB
• Texture Memory: 143.34MiB
• VRAM All: 224MiB
---

Model: Base//Head Sugs#9795 NOT ALLOWED FOR REUSE || Base Skin Texture Ying#666 || Head Edit Tuesdxy#6454 NOT ALLOWED FOR REUSE || Belt м.#7777 || Bracelet LuxxiLunar#7615 || Ears Nyakoh#6666 || Leash Yeori#0850 || Necklace Long м.#7777 || Necklace Short JerseysGhost#7777 || Rings Eggly69#6969 || Rope NippNipp#0001 || Skirt Lolo#5454 || Tail Jorgen#2328 || Kiss Particles Kisu☆#1000 || Mask .hatred.#0001 || Eyebrows loki#3000 || Face and Eye Texture Sivka#3788 || Hair Saikura#0006 || Nose Piercing Kohi#1004 || Tattoos Uni#1369 || Glasses lexxxya#9752 || Heels Meowuw#0001 || Bra, Corset, Crop Top, Fishnets, Panties, Lollipop by me!
---
Requirements
Unity 2019.4.3f
VRChat SDK CREATOR COMPANION
Poiyomi v8.1 and Poiyomi Pro for TPS