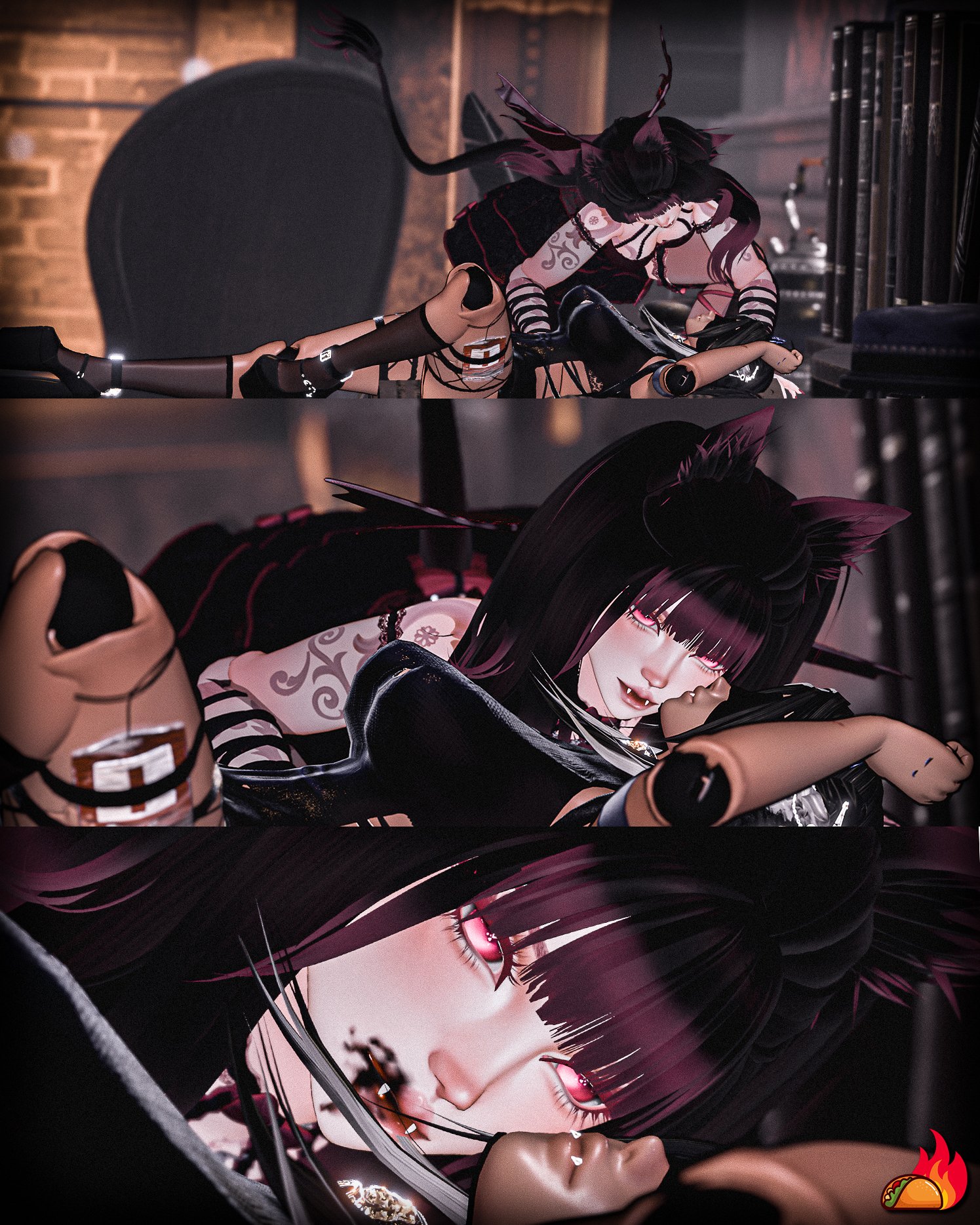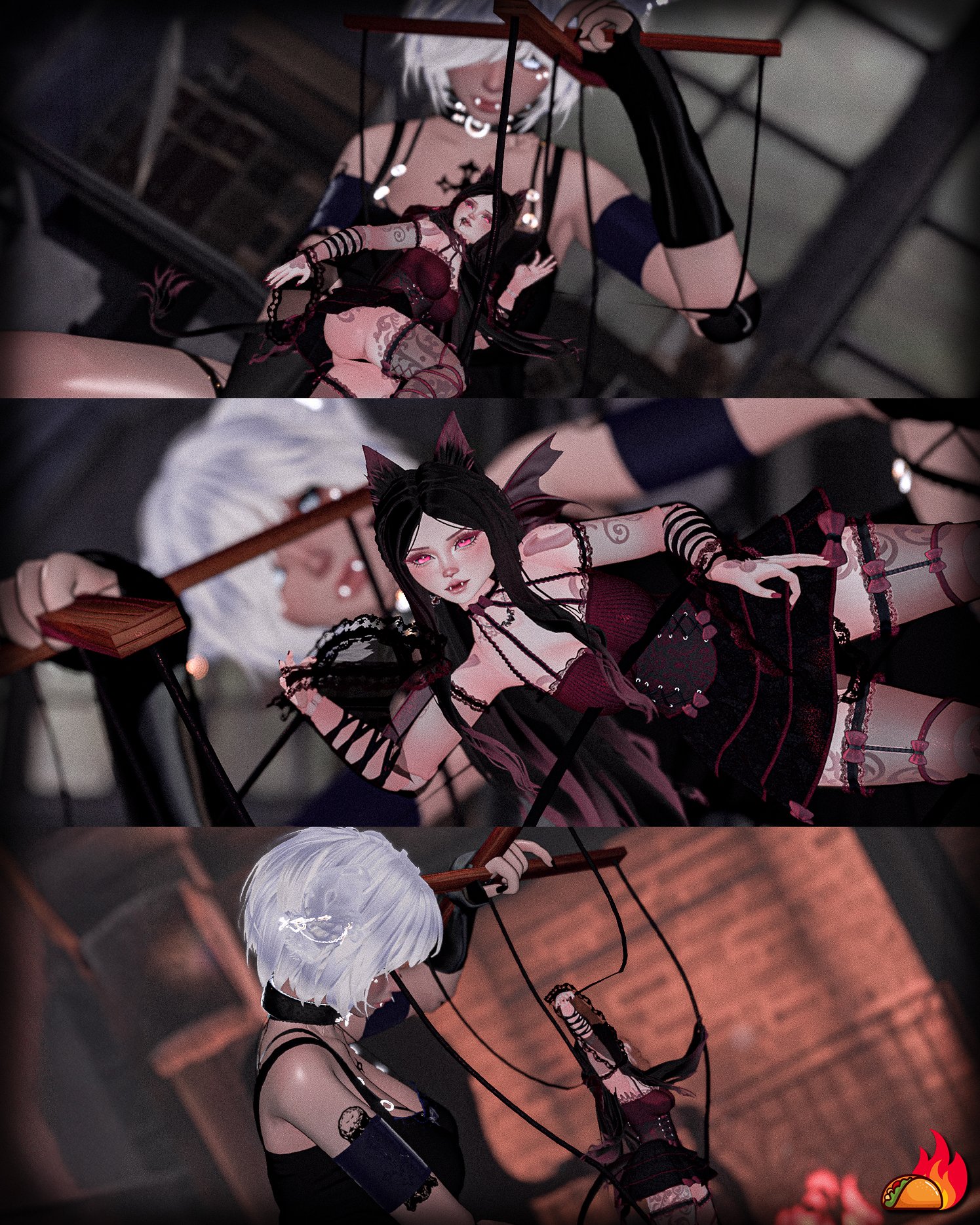 BELLA (3D MODEL)

This is a collab with Hungryyy!! Please check out Maria on her store~ https://hungryyy.gumroad.com
Buy both for $5 off each model!! Make a ticket in our server to get the discount! https://discord.gg/qwHJYTEHwa
• Full Body ready avatar. Reproportioned to fit better. (Has been tested by multiple dancers)
• Clean and organized package.
• Bounding boxes has been edited to be bigger so meshes don't disappear when close.
• Comes with Ball Jointed and NON Ball Jointed.
• Comes with Dancer Ready Versions.
• Comes with a SPS (Private Areas, Mouth, Hands.
• Comes with SPS Version, Non SPS.
• Gogo Loco!
• Smart Toggles for example if you turn on the bra the bodysuit automatically turns off.
• Custom Blinking Animation; Single, Double and Triple blink random intervals.
• 6 Face Gestures
• LTCGI (Some video player worlds will reflect on to the clothes.)
• Custom Menu Icons.
---


• Clothes: Bra, Corset, Skirt, Sleeves, Socks, Socks Garters, Socks Ribbons, Lingerie Top, Lingerie Bottom, Heels, Glasses.
• Extra: Invisibility, Puppet Handle, Doll Mode (No Jiggles on Chest, Butt, Tummy etc.)
• Animals: Ears, Wings, Tail.
• Customize: Skin Shift, Hue Shift, Hair Pigtails, Hair Long, Hair Wavy.
• Black Material Swaps: Dress, Heels, Lashes, Socks, Wings, Hair.
• White Material Swaps: Dress, Heels, Lashes, Socks, Wings, Hair.
• Color Material Swaps: Dress, Heels, Lashes, Socks, Wings, Hair.
• 8 Togglable Contacts (Headpat (others), Noseboop (others), Eyepokes (others), Kiss (others), Choke (others), Shy Fingers (self), Bite (Others), Wipe (Self).
---
• EVERYTHING PREFAB:
• 380k Polys
• 36 Mats
• 1483 Collision
• 186mb Texture Memory
• 12 Mesh Renders
• 7 Particle Systems
• 140 Particle Count
---

Model: Body Head zinpia || Eye Texture .Fair. || Body Texture by ying.vr || Head Edit tuesdxy || Face Texture littlepissbaby. || Gesture Particles kisustar || Jewelry lexxxya || Hair Long Gewl0 || Hair Pigtails Hair Wavy Nessyy || Heels moo.shi || Lingerie Flexuh || Puppet System JustSleightly || Tears
By Me: Base Edit, Fangs, Ball Joints, Bra, Corset, Skirt, Leg Garters, Leg Ribbons, Arm Ribbons, Sleeves, Socks, Puppet, Wings, All Rigging and texture work done by me.
Scripts Used: 
Avatar Template for Creator Companion JustSleightly
Avatar Dynamics Overhaul and Controller Editor by Dreadrith
GoGo Locomotion
Cam's Simple Blink
Showcase: Photos BlazeyTaco || Video yuki.ookami || Performer nijamz, skelly queen, foxautumn, goose, nitsa, daddyissuez ||
---
Requirements
Unity 2019.4.3f
PLEASE FOR THE LOVE OF GOD PUT VRCFURY IN THE PACKAGE FOR SPS TO WORK IT IS FREE: https://vrcfury.com/download
VRChat SDK CREATOR COMPANION
POI TOON 8.1.166


If you do NOT use the right poiyomi (requirements) toggles will not work correctly.
Sisters of Salem
Krisandra
Hi, I'm 24 years old, a slytherin, and person that love cats, bats, and squishmallows. We are self taught 3D Model and Asset creators for VRChat. With help along the years, I've personally gained a lot of knowledge to better my work, you can thank Illume for that. You can actually thank them both for constantly motivating me. I will continue to try my hardest, and to do my best with making unique and quality avatars and assets. I absolutely love my girls Illume and Hungry. ♡
Hungryyy
Hello, I am Hungryyy with 3 Ys specifically. I am 22 years old and I LOVE guinea pigs and Uber eats. (Not a sponsor). I spent months on end pressing random buttons until I figured out how to make stuff on blender and then did the same with unity and now I can make little people you can wear in VRC, I know it sounds crazy but I am a crazy girl. I put a lot of love into every model I create and I consider them all my art so I promise that nothing is half assed. I am proud to call myself a Sister of Salem, and I can't wait to see where life takes us! I hope you guys will stick around and join us on our journey of 3d modeling and life :3
Illume
Creating models and assets for everyone to enjoy on VRChat. Sisters of Salem (SOS) is owned by best friend Krisandra/Emrisa. We began as people that didnt understand Blender or Unity. Well now, we still don't fully understand it but hey, we sometimes can work it out... We strive everyday to make you guys happy, we continue to push ourselves daily to give you guys nothing but the best. We hope you stay to watch us grow. ♡